Westside House Cleaning is proud to serve the residents of Fullerton, California with a wide range of top-notch cleaning services. From deep cleans to move-in/move-out services, regular cleanings, and recurring appointments, we've got you covered. Our experienced team will provide timely, professional, and efficient services that will make your life easier and your home cleaner than ever before. Don't stress about cleaning – let us handle it for you!
Free pricing and quotes for our top-rated services
When it comes to cleaning in Fullerton, there's no better choice than Westside House Cleaning. Let us take care of the hassle and stress of cleaning so you can enjoy all that Fullerton has to offer, from its world-class parks and museums to its vibrant downtown scene. We're the experts – leave it to us and relax!
Need cleaning done right and on time? Westside House Cleaning is the team to call. We're the best local cleaning company in Fullerton because we know how other companies operate – and we do it better. Every cleaner on our team is background-checked for your safety, and we're fully licensed and insured to provide total peace of mind. Simply put, we're the premier cleaning referral agency in Fullerton – nobody else can match us!

A wide range of cleaning services and pricing options to suit your needs is what we do. Whether you want weekly, bi-weekly, or one-time cleanings, we have something for everyone. Let us make it easy for you and your family to keep your home clean and tidy – book with us today!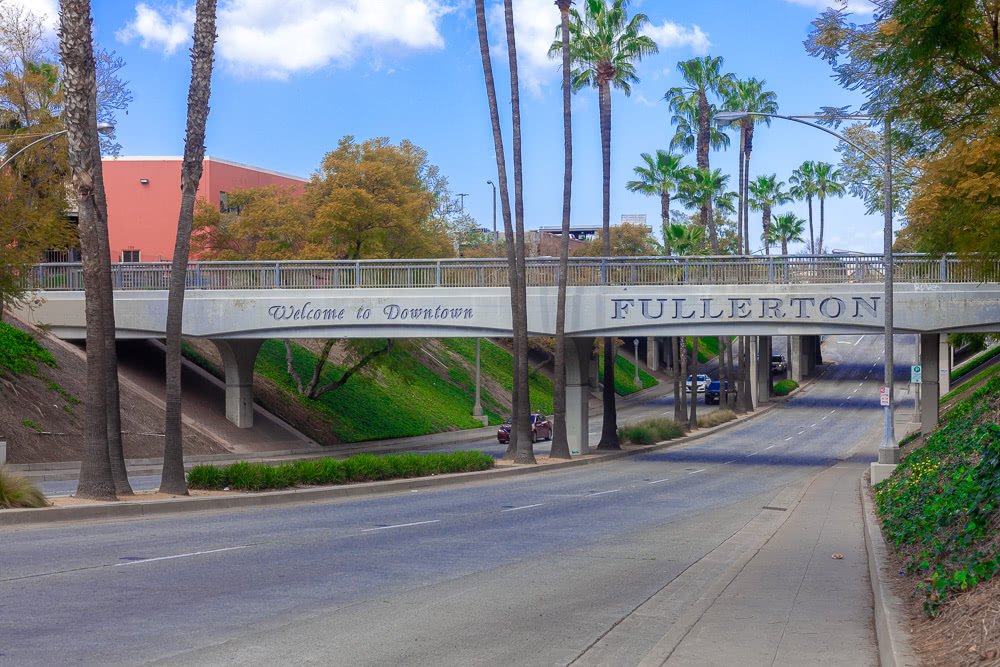 Picture of world famous Downtown Fullerton
The top choice for professional, reliable services in the area
As soon as you book with us, you'll see why Westside House Cleaning is the best choice for house cleaning services in Orange County. Take a break from housekeeping and cleaning, and let us handle it for you. Our convenient hours (Mon-Sun 8:00am-8:00pm) make it easy to book a cleaning at a time that works for you. We're here to serve you and make your life easier.
We offer a wide variety of house cleaning services to Orange County residents, including deep cleans, move-in/move-out cleanings, and more. And we love referrals! Our friendly customer service team is available from 8am-8pm Monday to Sunday to help you book a cleaning at a moment's notice. Contact us today to find out more about our services and how we can make your life easier.
24/7 Service, always available
Book a house cleaning with us today and experience the convenience of our online booking solution. Enjoy a sparkling clean home and help us fulfill our mission of serving both customers and the Orange County community. Contact us now to schedule your cleaning
Choose from weekly, bi-weekly, or monthly cleanings to suit your needs
When booking with Westside House Cleaning you are free to choose from weekly, bi-weekly, or monthly cleaning services. Enjoy a discount on recurring cleanings and trust our experienced, fully-equipped house cleaners to provide professional services throughout the county.
Vacation rental cleaning services to help you prepare for guests
In addition to our regular house cleaning services, Westside House Cleaning also offers vacation rental cleanings for Airbnb, VRBO, and other rental properties. We believe we're the best choice for vacation rental cleanings in Orange County, especially in cities like Fullerton that have a high concentration of rental properties. Contact us today to book a cleaning for your vacation rental.
Why Westside House Cleaning?
We're Here to Serve You
Westside House Cleaning offers convenient online office support, and we're available from 8am to 8pm to assist you. If you prefer to call, we're here to help and will respond within 30 minutes. Our membership-based cleaning service is available 24/7, allowing you to schedule and reschedule bookings, update payment methods, and provide feedback with ease.
First Class Service
Our customers love us because we're the #1 choice for professional cleaning services in Orange County. We have the people and systems in place to get the job done on time and on budget, ensuring your satisfaction every time.
Always On Time
When you book a cleaning with us, your payment information is stored securely, and no charge is processed until the cleaning is complete. Don't spend your time cleaning – let the pros at Westside House Cleaning handle it for you so you can enjoy everything Fullerton has to offer.